Invisalign Near Me
Invisalign is a popular, contemporary treatment designed to straighten your teeth and help your smile appear more beautiful. The biggest advantage of this particular process is the lack of metal arch wires and brackets. You won't have to worry about feeling embarrassed when you talk and laugh, nor will you have to deal with sore and sensitive teeth while you eat.
For more information about Invisalign in Orlando, get in touch with our local dental practice, CG Dentist Orlando.
What is Invisalign?
Also known as clear braces or clear aligner therapy, this is an orthodontic strategy that realigns your teeth over an extended period. No metal framework is incorporated into this treatment; instead, high-quality dental plastic is used to fabricate customized trays that fit snuggly over your top and bottom row of teeth. These devices will feel tight because they're exerting continual pressure on your smile. This pressure stimulates bone movement, therefore encouraging your teeth to shift into a different position.
Every three to four weeks, you'll return to your dentist to receive a new set of trays.
To learn more about receiving Invisalign near you, talk to your dentist today.
See Your New Smile in Seconds!
On Mobile Phone:
just follow the link below to try out SmileView™ and see yourself in a new smile!
On Laptop or Desktop:
1Get your phone
2Open your camera
3Point it at the QR Code
4See your new smile!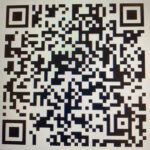 Receiving Invisalign in Orlando
At least two separate visits are needed to receive this treatment.
The first appointment entails a comprehensive oral evaluation as well as dental x-rays. This helps your dentist develop a detailed understanding of your teeth and gums and identify the degree of care that you require. Digital Impressions will be taken. Both the x-rays and impressions are sent off to the dental lab where your custom trays are fabricated.
Once your trays are ready, you'll return to receive them. Your dentist will outline the various stages of your treatment plan, which is specifically created just for you.
Have questions about receiving Invisalign near you? Be sure to book a consultation with Dr. Gurreonero, our Orlando dentist, before undergoing any form of orthodontic work. They'll be able to tell you if you're a suitable candidate for this process or if an alternative like traditional braces, would be more appropriate.
On average, you need to wear your aligners for at least twenty-three hours every day to ensure that the process is effective. These trays are removable too, meaning that you can brush, floss, and eat as you normally would.
Are you interested in receiving Invisalign in Orlando? Call or visit our website to get started. Our staff looks forward to walking with you on your journey to achieve a beautiful smile.